Filipino rock, better known as Pinoy rock began in the 60's with instrumental surf combos and British Mod and American Motown influenced groups like the JOVIALS, the MOONSTRUCKS and the HOUSEROCKERS who often retained a Latin sound through the use of a brass section. The latter half of the decade produced heavier rock and more psychedelic bands such as the popular JUAN DELA CRUZ BAND.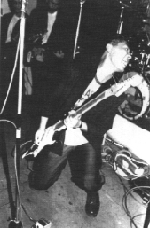 In the 70's a more nationalist folk rooted genre emerged as the "Manila Sound" and by '78 Western punk was touching the island nation's airwaves and people By 1980, Pinoy punk began when the JERKS, fronted by former folk singer Chicoy Pura, ousted the JUAN DELA CRUZ BAND from the stage of On Disco, a local hangout for punks and new wavers or chongs. The 80's saw a the beginning of the Brave New World punk show events which featured rising punk acts like CHAOS, the ZOO, the LOST BOYS and COLLEGE as well as a D.I.Y. ethic shown by indie labels such as INSECT DANCE, AKASHA RECORDS and TWISTED RED CROSS. Punk also splintered into various scenes such as mod, Oi!, hardcore and straightedge thus creating gang rivalries. Throughout the decade, Hardcore band BETRAYED would cause havoc amongst the punks and chongs alike. And even before 1990 hit, skate punk, ska punk, foxcore (Manila's version of riot grrl!) and thrash scenes were underway.
While the 90's saw a decline in punk, someone wrote "the revolution continues." In a country where the music scene began in political instability, thrived under Martial Law and continues despite extreme poverty, the nature of punk will be closer to those that choose to use it as a means of expression. Here to expose the struggles of the new millennium are bands like THE ITSUKAS OVER DISNEYLAND.
For further information on Pinoy Punk:
An Unofficial History of Philippine Punk

THE ITSUKAS OVER DISNEYLAND
O Guinu

CD Albummore info

$7.99